Artist Spotlight: Vintage Swing Thing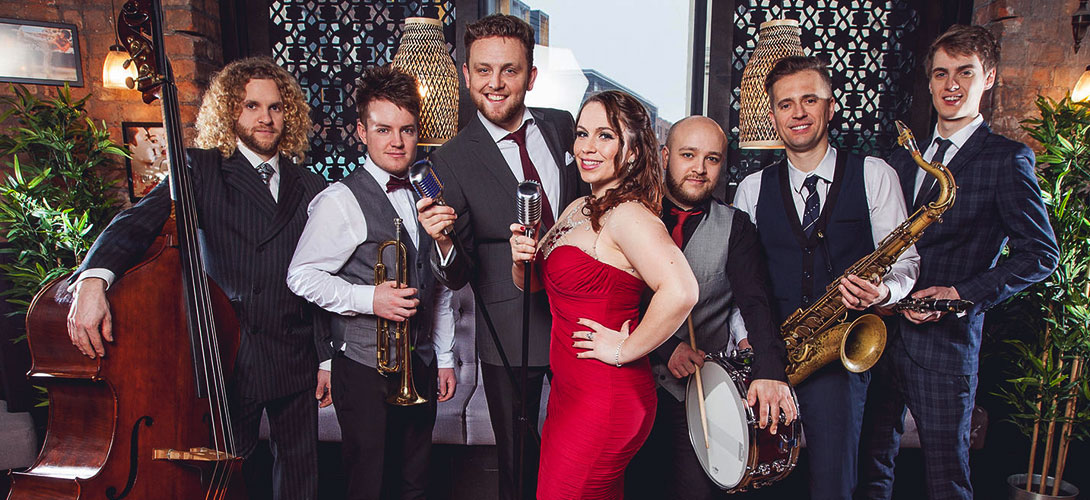 Founded in 2016, Vintage Swing Thing are an exciting swing/jazz crossover band, based in Lancashire but covering all areas of the North-West and beyond, including Manchester, Merseyside and Yorkshire.
Inspired by the hugely popular Postmodern Jukebox, this group of musicians are eclectic and virtuosic, featuring graduates from world-renowned Liverpool Institute For Performing Arts and the Royal Welsh College Of Music. The band founding singers were Nicholas James Gunn and Helena Johnson, who together with the band performed a sell out show at The Grand in 2017.
Vintage Swing Thing (Live at The Grand) from Musique Agency on Vimeo.
The super seven talented musos that make up one of the most exciting, quirky and unique show bands in the UK, booked exclusively with DFC.
Introduced in 2018, the new front pairing Arthur Geldard and Adee Lifshitz take guests on a foot stomping, hands clapping experience from start to finish.
Expect slick, tailored styling from yesteryear, a captivating stage presence and modern chart-topping music which gets a jazz and swing makeover. The result is a rousing, fun and interactive performance you won't forget.
Vintage Swing Thing from Musique Agency on Vimeo.
Adee and Arthur take on the lead vocals and bounce off one another through a multi-decade and multi-genre musical journey. From Sinatra classics to Lady Gaga with a 20s skiffle twist, there's something for every guest of every age.
With keys, sax/clarinet, drums, trumpet and double bass backing the twin lead vocals, this is a big sound for a wedding or event looking to make a big impression. Band leader, Josh, who graduated from the Royal Welsh College of Music spends his time creating original arrangements of your favourite chart songs with all of that lindy hop jazzy goodness.