Artist Spotlight – Ben Fenner

"It's hard to deny that he has a good voice, it's classically good, strong and impressive. it's obvious that his heart and soul goes into the lyrics he writes, and it takes guts to share that on stage. Each song reaches a timely crescendo and his voice builds with the music, it's a big sound and one which easily fills the venue.." – MCR LIVE
Ben Fenner is a singer-songwriter based in Manchester. Singing since the age of six, Ben was submersed in a musical education by his parents who introduced him to the world of soul, pop , jazz, theatrical and orchestral music. It was at church every week however that Ben fell in love with music and discovered the impact that music and words can really have on people and what it can inspire in them.
All through his childhood and teenage years he was rejected and ridiculed for his passion for singing and performing, yet still found a way to absorb everything he could from any exposure he could find. It was only when he moved to London at eighteen years old that he found the freedom to fully find his voice, his confidence and the strength to be the type of person he wanted and not what was expected by others.
Collaborating as a band in Manchester with five of his closest friends Rhys Jiang, Sean Rogan, Ollie Walton, Chris Rabbits and Lyza for almost two years, Ben finds himself constantly evolving, setting his sights on creating an impact and tearing down walls with his music.
Ben Fenner kicks off the year with the track 'Bad Attitude', tackling the subject of the political fallout of the last few years and the issues that have divided the country.
Ben, what is 'Bad Attitude' about?
'Bad Attitude' is about standing at the beginning of an argument, a confrontation or a fallout and looking into the aftermath of what that fall out would be, and the result of that. Seeing that even if we get through this, it's not gonna be in the same way that it was before. I think it has two kinds of perspectives – the personal one-to-one perspective which actually initiated me writing it, and then there's the looking at our country and the world at the moment and seeing people with very old-minded views dominating our country and realising that we're not gonna be the same as a community anymore and acknowledging that. 
This release signals Ben's first collaboration with Actual Music. Produced by Jamie Turner and Tony Draper, 'Bad Attitude' signals a previously unheard power and edge to his sound, with a hard-hitting chorus and cinematic crescendo.
What do you like about Manchester / Manchester music scene?
Originally, it was just a change of scenery. I lived in London for 7 years – it was great and it served its purpose, but when I started to write and move on to pursue music, I just felt I wanted to try a different city, a different culture. Living here and pursuing music up here you just see this massive hub of creativity and on a phenomenal standard as well. It's not just a bunch of people trying to write, there are some amazing artists and musicians; I met my band up here and they're all just incredible so it's ended up being this place that actually went from just being a change of scenery to being somewhere that has pushed me to be better, and made me better, and made me want to be better, and inspired me. I don't really want to leave cause I don't want to leave the band behind. They make me better and that's why I want to stay in Manchester.
"For fans of modern soul greats such as John Legend, Adele and Sam Smith, Fenner's music mixes his strong yet delicate vocals with helplessly relatable lyrics and perfectly executed production. With four songs officially released so far, this is only the beginning of Fenner's promising career. " – ZENITH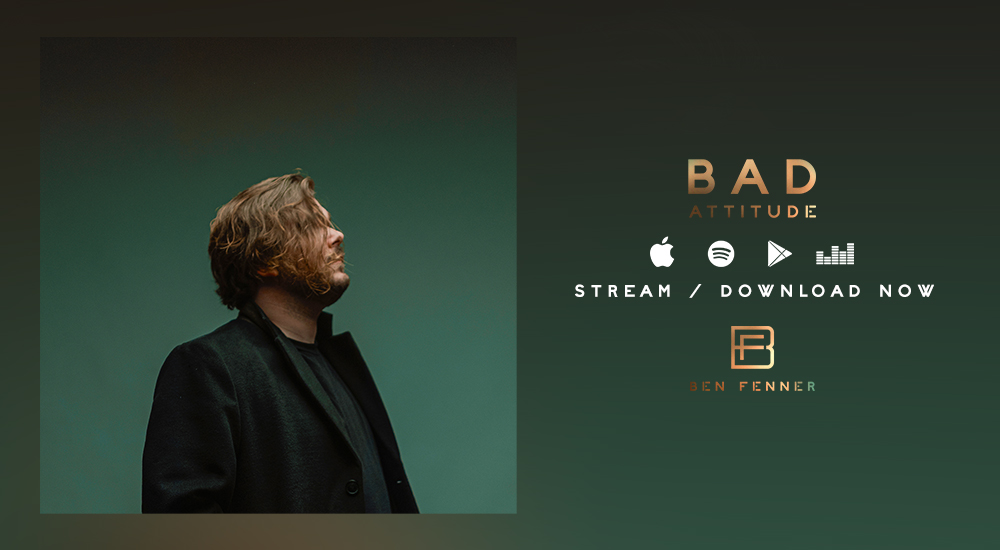 Ben's latest single 'Bad Attitude' is out now! https://lnk.to/BadAtt